Beyond Free Days: Backstage Pass With Sara Metzger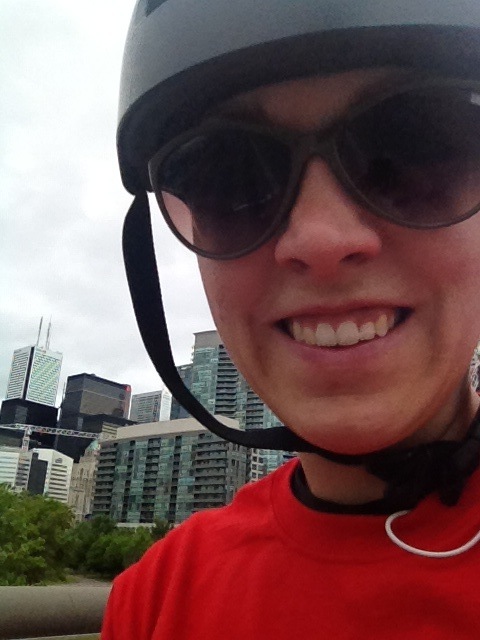 Sara Metzger, Tech Support Team go-getter.
One of the things new Strategic Coach team members get excited about is Free Days: We get six weeks off starting from our first year with the company. But we also get three extra days we can use to volunteer, through an incentive called The Silver Bullet Program. It lets us give back to the community while getting an extra little nugget of free time.
Volunteering in Toronto, Chicago, and around the world.
During the holiday season, we hold food and toy drives for the Daily Bread Food Bank or Toy Mountain. In the spring, we purchase daffodils for the Canadian Cancer Society.
My fellow Tech Support team member Rose and I have participated in the Becel Ride for Heart, where they clear Toronto's expressways and we complete a bike ride to raise money for the Heart and Stroke Foundation.
Our team member Lynda volunteers with Jays Care, a charitable arm of the Toronto Blue Jays that gives youth in need access to sport—including a chance to play on the field at the Rogers Centre (the Blue Jays' home diamond).
Others have helped out at their kids' schools, volunteered at PRIDE, participated in a shoreline clean up—there are endless opportunities and things to do.
Making a big difference in someone's day: Meals on Wheels.
In addition to my Tech Support role at Strategic Coach, I manage The Silver Bullet Program, offering volunteer suggestions to the team and orchestrating company-wide events. It's a natural fit for me, and a personal passion, as I believe volunteering to be an important means of contribution and giving back.
Almost every Saturday in the summer, I get on my bike, and in the winter I team up with a friend who has a car, and we deliver Meals on Wheels to those in need in the community—elderly people living on their own or people in community housing. I've been doing that for the last five years, and I love it.
Sure, it can be a lot of work, especially in the summer when it's hot and you're towing a hundred pounds of food behind your bike! You tend to have the same route, though, so you develop relationships with the people you see each week, and they get so excited when somebody knocks on the door. Even if it lasts only a couple of minutes while you drop off some food, that interaction is so desperately needed by the people you're visiting.
When I first started with the program, there was a woman who'd recently lost her husband and was still in the mourning process. We were that little ray of sunshine for her, a break in the clouds, so she could come out and see that she really wasn't alone.
Being an active member of the community.
Everyone is part of some community, be it a work community, family, neighbourhood, and so on. And I think we all, deep down, feel the need and the desire to give back to the communities we're a part of.
Not a lot of companies recognize the importance of doing that, but at Strategic Coach, it's seen as a win for everyone involved.
What volunteering has your company gotten involved in? Tell us your stories in the comments.