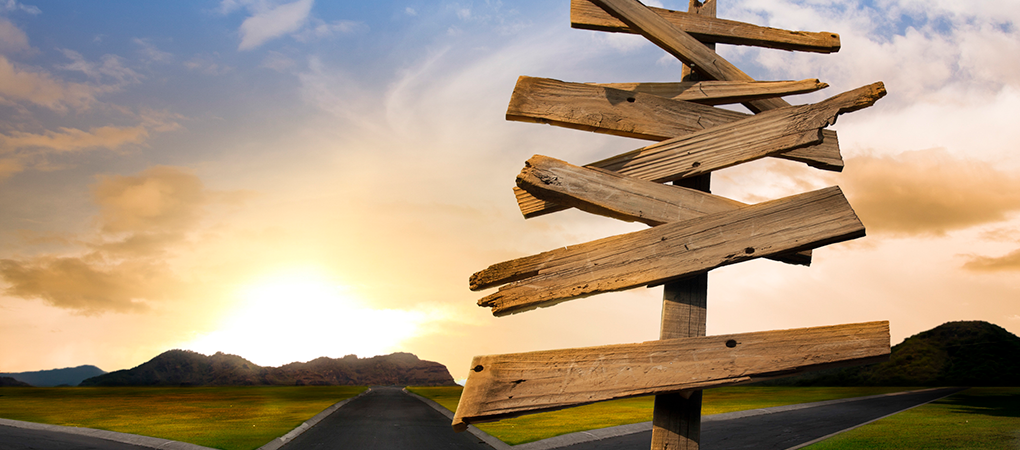 Most entrepreneurs dream about the type of business they want to create for a while before they take their leap of faith. They have a vision of what it will look like in the future, and nurturing and growing their business becomes part of their day-to-day mission.
Or does it? What we know actually happens to many entrepreneurs starting out is that, one, they're lone operators doing everything themselves, mostly out of necessity, and, two, they're so involved working in the business, they have little or no time to work on the business. That's where growth takes a hit.
The fork in the road.
Suddenly, you find you can't work any longer or any harder because you're already working full out. You want to grow as an entrepreneur, you visualize this in bigger and better results ahead of you, but your business has hit a plateau, and you're operating in constant frustration.
Dan Sullivan likens it to coming to a fork in the road. To achieve the growth you envision, you have to decide: Do you continue to concentrate your efforts on the "how" of the business? Or are you wiling to put your focus on the "who," building the right team around you to handle the "how"?
As Dan points out, there isn't a single entrepreneur who achieves 10x results by continuing to do the "how" that got them to the fork in the road. They do it by expanding the number of "who's" on their team.
Meet a pioneering entrepreneur.
John Gluch assumed he'd follow in his father's footsteps, working in the same job for 40 years and then retiring at sixty-five or so to pursue his other interests in life.
But after graduating from college with good grades and a degree in finance, and despite a strong economy, he found that he could not land a job. Eventually, and as good fortune would have it, he went to work as an assistant to an entrepreneur. Though he was doing mostly administrative work, John credits "this wonderful man" for teaching him how to run a business, how to market, how to serve customers, and how to create a solution to people's problems. "I was hooked instantly," John says.
"The idea that I could create something new was so exciting to me. I could take an industry like real estate, for example, and think about how to create a differentiator in a business—thinking about it in ways that others hadn't ever thought of and being able to innovate."
By 2003, John, along with a partner, were experiencing the flush of success in the heated-up U.S. real estate market. They were young, and it was an exciting time. Everything they did went well—until it didn't. As soon as the economy crashed in 2008, so did their over-leveraged company. It was difficult and painful. They didn't go bankrupt, but it was close.
Time to process and start again.
After two or three years of powerful soul-searching, maturing, and learning from his own mistakes, John believed he had come up with a new and fresh way to go about entrepreneurship in the real estate industry. He started hiring and growing his business again, but applying what he learned from his past mistakes. He felt it was better and safer.
John had no intention or ambition to build a big company again, to pursue outward success, but he found himself thinking about how to grow this business. The real aspiration came from now being married and then having his first child.
At this point, he was out selling houses by himself, which meant working weekends and nights. He was successful, but the price wasn't worth it.
"I was literally in the hospital room just after my daughter was born taking care of business by email, and I thought, 'You know what? This is a problem.' I went about trying to find coaches who could show me how to grow my business in a way that was better than the way I knew how to do it."
The chosen fork in the road — the who's, not the how's.
John is a learner, an open-minded thinker, and a generator of new ideas. He was determined to find a way to take his love of the real estate business—but without its traditional "every day can be a workday" way of operating—and make it work for him and the life he wanted to create for his family.
Today, he is a real estate agent who doesn't sell homes; he manages a salaried team of real estate professionals. John and his family live on idyllic Coronado Island, just across the bay from San Diego. From there, he runs the business and manages his team in Phoenix.
This concept of real estate agents working on salary as employees of a business is a relatively new concept in the industry and one that John believes will be the model of the future. "Teams can provide really incredible service to clients, which is a little harder to do if you're a solo agent."
John has taken this model a step further by living and working from another state. He's found that running a business from afar has actually helped him achieve what is most exciting to him in his business and do what he does best.
His focus is not only on growing the business every day, but on growing as a team—not only getting bigger but getting better. In his words, "The huge benefit of working from a different part of the country is that I'm actually forced to work on growing the business, which I love to do."
Though John and the team know that top-notch service—buying and selling houses, and doing that exceptionally well—is their core focus, they see it as a starting point.
John devotes much thought, discussion, and planning to creating a differentiator in his business. He sees it as essential to securing strength and longevity in the marketplace, and, hands down, the best path to exponential growth. "Being better than everyone else is a hard game to win. Being different is an easy game to win," he says.
---
"The power of your team will empower your future."
Click To Tweet
---
Wow!
John and his team decided that their differentiator would be to always make people feel important, special, and cared about, and they've initiated some very specific ways to do that. Now, lots of companies do that or attempt that, but John and his team have taken it to a completely different level.
First, John hired a full-time person to think about how to make people feel special, and then make it happen. Her title is "Wow Coordinator," and her goal is to wow everyone who comes through the door.
One of her most important tools is Facebook, where she "friends" clients and tunes into important moments in their lives. Instead of talking on Facebook, she listens.
A mention of a trip to Las Vegas to celebrate a wedding anniversary, for example, prompts a call to the couple's hotel, and arrangements are made for champagne, strawberries, and a handwritten card on arrival.
"All this from a realtor who helped them buy a house a year ago," says John. "When you pay attention, there are countless opportunities to make people feel special. We're creating special relationships that give us a distinct advantage over any other realtor who might be trying to solicit that business."
Future-proofed.
Looking ahead, John sees that he and his growing team are doing important groundwork for the future. Should the real estate industry be disrupted and there no longer be such a thing as a realtor, which is possible, they can take what they've created as their differentiator in the business in terms of serving clients, and translate that into any one of thousands of different industries.
John and his team know there will always be a need for people to feel cared for and special. That's universal.
YOU CAN GROW 10x
---
From entrepreneurial expert, Dan Sullivan, find out how you can make exponential growth your new normal.