Strategic Coach's Online Workshops & Programs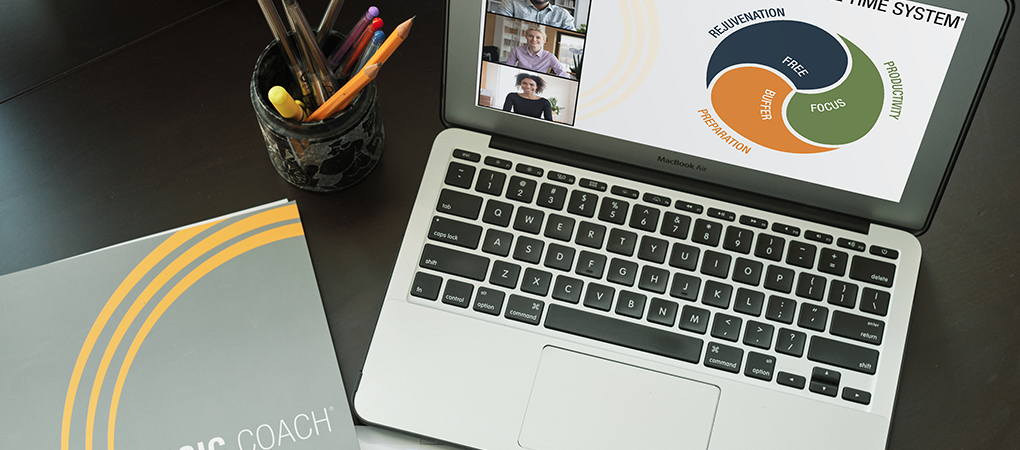 Over the past few months, we've been talking a lot about how Strategic Coach entrepreneurs are responding creatively and effectively to the scary times we're going through.
Despite what we might be seeing on the news and in the media, there have been some fantastic things that have come out of the past few months in the entrepreneurial world. I've been amazed at how many entrepreneurs have been able to take what initially seemed like an adverse circumstance and turn it into a new form of value creation.
And it's no wonder we're seeing this. I often say that entrepreneurs sign up for scary times just by virtue of being an entrepreneur—we've built muscles that make us much more resilient in times of challenge than the average person.
We had to pivot just like everyone else.
Just like all of you who are pivoting and changing your businesses, we at Strategic Coach have been doing the same.
I often like to think of businesses as having a "backstage" and a "front stage." The backstage is the support—it's what's going on behind the scenes, internally, at the company. And the front stage is what the customer sees, whether that's a product, service, or something else entirely. Most businesses have had to significantly alter both their backstage and their front stage—and we are no different.
At Strategic Coach, the front stage is our in-person workshops. That's what people sign up for when they join Strategic Coach, and that's what we pride ourselves on delivering.
When this pandemic hit, we were immediately faced with two big obstacles:
Taking our "backstage" virtual in a matter of days.
Figuring out how to keep the show going on the "front stage" when it became clear that in-person workshops were out of the question.
I'm thrilled to say that the first obstacle was expertly navigated by our team. Within two days, our entire team was set up to work remotely from home. With over 100 team members across eight time zones, that is no small feat.
The next obstacle was a bit trickier. How could we replace the main way of interacting with our clients?
Strategic Coach online workshops.
The obvious answer was to set up online workshops, and that is what we pivoted to as soon as possible.
But taking our in-person workshops—which are the centerpiece of everything we do at Strategic Coach—and removing the "in-person" aspect is harder than it may sound. Anyone that has been to one of our events will tell you that being around all of our entrepreneurs and getting together in the same room is incredibly valuable in and of itself.
What we've found is that, like anything, there are pros and cons to online workshops. And truth be told, I've found there to be far more positives than I originally anticipated.
The most immediate benefit we've seen from our Strategic Coach online workshops is that travel has been taken out of the equation. We have entrepreneurs across the globe, and for many of them, coming to their workshop means multiple days of travel.
For our Australian entrepreneurs, coming to a workshop generally means five days of turnaround time from the moment they leave home to the moment they return. With four workshops per year, that's 20 days out of the year—and that's not even taking into account the cost of travel.
With online workshops, it's as simple as opening up your laptop. Just the other day, Shannon Waller held an online workshop with 17 entrepreneurs from around the world. All they had to do was turn on their computers when the time came.
There are also benefits to online workshops when it comes to content delivery. At an in-person workshop, you might miss something that was said, there might be distractions, or you may need to leave the room for a portion of the exercise. But with an online workshop, you have everything you need right in front of you, and you're perfectly focused in your environment with crystal clear audio coming through your speakers.
And finally, conducting workshops online allows us to drastically expand our reach. Although we do have entrepreneurs who travel across the globe to attend their workshops, the reality is that the vast majority of our entrepreneurs are local. Now, we can bring in entrepreneurs from around the world who otherwise would not have been able to join us at in-person workshops. To me, that is particularly exciting.
That being said, there really is no replacement for the socialization that happens at our in-person workshops. Socializing certainly does happen with online workshops—during breaks and in breakout rooms—but it's just not the same as in-person.
I've ultimately noticed that there are two distinct worlds within our workshops: the delivery of knowledge and the social world. To put it simply, in-person workshops are better for the social aspect while online workshops are particularly powerful for the delivery of knowledge.
Our brighter future.
We've had a lot of people asking us if we'll continue to hold in-person workshops, and our answer is always the same: Yes. As soon as it's safe to do so, we'll be opening up our in-person workshops, and they'll be just as valuable as they always have been. We have no plans of ever stopping these, outside of another global pandemic.
But like for many businesses, there has been a silver lining to these scary times. We've seen the potential of Strategic Coach online workshops during this crisis, and we've decided to incorporate them into our core offerings.
This is a brand new capability for us, and we're excited to share it with all of our entrepreneurs. Like many of our entrepreneurs, we've seen the true power and functionality of Zoom. In fact, I think these circumstances have allowed us to take the equivalent of a five-year technological jump in just three months.
Like many of you reading this, we're excited to go back to working in person—but we've also seen the value of working remotely. It didn't take us long to realize that we'd be doing a disservice to ourselves and our clients if we didn't continue to utilize these online workshops after this is all over.
It's not going to be an either/or situation. It's going to be both!
Here's what you need to know:
Starting in September, we'll be offering a virtual-only program option.
Everything that was in the calendar for June, July, and August is now a Zoom workshop—125 in total!
Our virtual program will include six four-hour workshops, with breaks and plenty of breakout sessions scheduled in.
Between workshops, we'll hold 45-minute Virtual PowerUps to refresh and reinforce the material covered at the workshops.
We'll be limiting the number of participants in our virtual program to ensure that everyone is able to participate at the highest level.
This is the first time we've ever offered our Signature Program virtually. It will include all of the same content, strategies, and materials as our in-person workshops—just without the complexities of travel.
Our entire team at Strategic Coach is excited to see what opportunities this brings us, both as a company and for all of our current and future entrepreneurs.
---
Interested in Strategic Coach online workshops? Get more information and register now!
---