The Great Divide: Transforming Your Perspective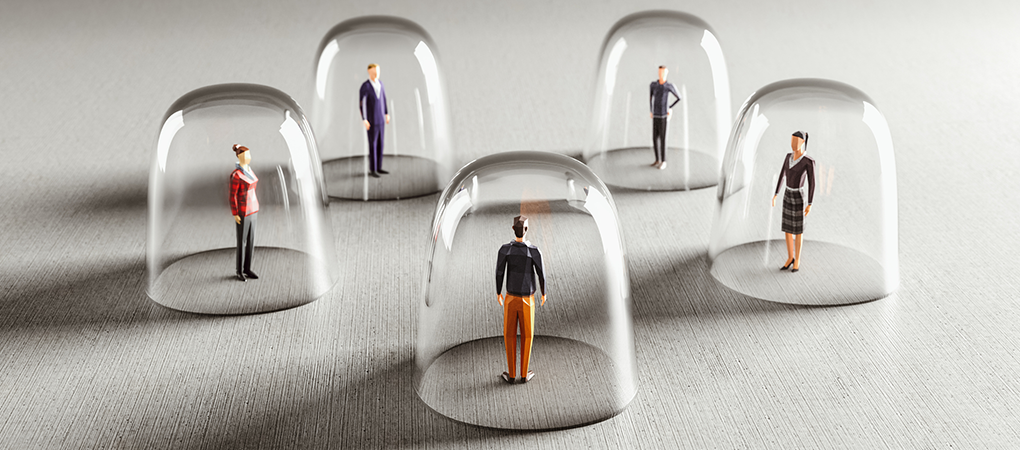 There was a period of history where people's perspectives stayed relatively the same for at least 50 or 60 years. Then, it started to fray at the edges with the emergence of microchip-enabled technology, personal computers, software, the internet, and smartphones.
The way we've thought about and organized our world—essentially unchanged since the end of World War II—has now changed. As a result, we're experiencing a divergence based on how people work, leverage opportunities, and organize their lives. This divergence requires transforming your perspective to keep up with the change.
The rest of the world is behind because the speed at which communication, teamwork, and innovation can now happen is too fast for the world's primarily industrial, bureaucratic economies and governments.
Enter the Great Divide.
There's a big difference in the perspective of people who thrive, grow, and take advantage of new opportunities and those who are stuck. So if you're interested in transforming your perspective, consider which side you're on in the Great Divide.
On one side of the Great Divide, you have entrepreneurial activity and networks that have taken advantage of technology. They've developed entirely new organizational structures and processes to maximize capabilities and production using technology. Their perspective is one of innovation, resilience, action, and evolution.
For example, when the lockdown occurred for us, I was amazed at how quickly we adjusted what had previously been an entirely in-person business. Within three months, we had created a temporary virtual model, and within six months, we had become a completely global business due to the virtual technology we'd adopted. Again, our perspective (taking advantage of new opportunities) was the foundation that made this possible.
During that time, the growth of Zoom was incredible. In six months, they went from 10 million users to 500 million users a day, and it became a powerful platform for business and innovation. Because of the lockdowns, a sudden global sector took advantage of Zoom and departed from the pack, doing work differently.
Now, we can live, work, and run a business from anywhere.
I believe that, in the Great Divide, Strategic Coach is part of the group that transformed our perspective and "zoomed ahead." On the other side, there's an old economy where things aren't working. As a result, there's confusion, breakdown, anger, fighting, and violence, and there's also a waiting game until world governments and big corporations have answers.
Some entrepreneurs feel trapped in this old perspective that's keeping them stuck on the side that isn't working, while others have embraced a much more dynamic perspective.
To cross the Great Divide, you need to transform your perspective to one that's collaborative, transparent, honest, and action-oriented—despite not having all the answers.
Crossing the Great Divide.
Throughout history, a central force of change has been discovering ways to make money faster, easier, and cheaper, thus producing a more significant result. New ways of money making are not immediately apparent to the general population, which is why businesses using Zoom probably have the least regulated business activity on the planet.
Because we no longer have to travel to collaborate and innovate, bureaucratic regulators have lost the ability to observe the tectonic shift in the economy. And although productivity and innovation have increased, it isn't always apparent, which is why there's a big disconnect between the media and people's actual experiences on each side of the Great Divide.
Those who talk about the threat to the world are people living in the old system. It's not a threat to the world; it's a threat to their world. That's important to remember when consuming media.
Large bureaucracies and governments are becoming less productive and less profitable. They're losing the innovation race and shutting down.
However, on this side of the Great Divide, we didn't close up shop; we simply readjusted our models and went back to business.
Embracing the new normal in this Great Divide.
To transform your perspective, you need to leverage new technologies to collaborate, innovate, and take action. On this side of the divide, there's a higher level of individual capability, countless numbers of hours saved on transportation, more energy, and less distraction. It's an incredibly motivating perspective.
I believe that what we're doing on this side of the Great Divide is the new normal, and we'll continue to adjust and reach new territories as we continue to evolve through this perspective. If you're ready to transform your perspective, get on the right side of the divide, and adapt to the new normal, grab your free copy of Zooming Ahead.