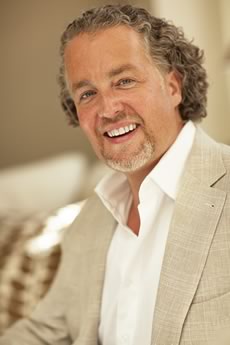 Stefan Wissenbach, founder and CEO of The Wissenbach Group based in Warwickshire, England, and MagicFuture.com.
In the spirit of Global Entrepreneurship Week, we invited Strategic Coach clients to share their secrets to success. The second in the series is written by Stefan Wissenbach, founder and CEO of The Wissenbach Group based in Warwickshire, England, and MagicFuture.com.
As an entrepreneur, I realized early on that when you have a clear vision of your future, magic starts to happen.
Vision builds momentum, helps you make decisions and take action, and gets you where you want to be. Indeed, I believe that thinking about and envisioning your future is the way to achieve your greatest potential.
For me, having a vision means creating a reference for what it looks like when it's done, and then putting a mission behind it that's so much deeper than just turnover profit numbers.
I recognized, too, that for any entrepreneur to be successful, they need to have a big vision they can be really excited about that makes them leap out of bed like a salmon in the morning. All the successful entrepreneurs I've met have a really big vision. And they're able to take that big vision and flip from big-vision thinking into action.
Now, once you've got this big vision, how do you stay connected to it?
For me, personally, it was about creating a vision that really inspired me, then distilling that down into a mission. This became my company, Magic Future.
With Magic Future, my mission is to provide education and inspiration to generations globally so that we enable people to take control, achieve more, and love life. And I get really excited by that as a mission. I say it, I think it, I'm connected to it, and that makes it much easier to stay inspired when the going gets tough—which it does.
In any entrepreneurial journey, there are going to be highs and lows. But when you've got clarity on the vision you're aspiring to, you'll never see a limit to your own potential.
So once you've found a way to stay connected to your vision, the question then becomes, how do you connect your team to your vision?
People want to work in an organization where there's leadership that has a really big vision, is clear on that vision, has a mission and a plan that support it, and is going to take the organization from where it is now to a much higher level. As the leader, you've got to keep your own mojo up and keep your passion going.
Being able to articulate your vision clearly and put some form of clear mission behind what you're trying to achieve—the purpose—makes it much easier to talk to your team about it and help them get connected. Sharing the passion, the enthusiasm, the belief, and the why is the way to get your team on board with your vision and your mission.
And then you've got to find out who's on the bus and who's not.
I've been very fortunate over the years. I've been able to build and sell a number of companies. I consult now with successful entrepreneurs in the UK, and through our online platform, Magic Future, I help other people make their lives better. And it all started with a vision.