Tip Of The Week: 25-Year Transformation One Bite At A Time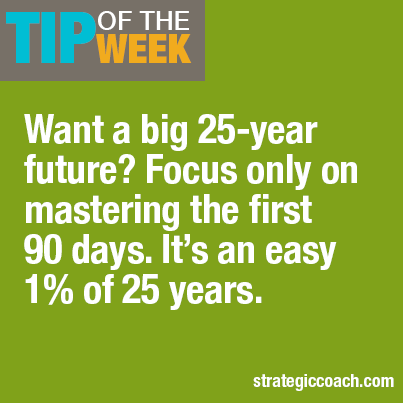 Tip Of The Week
Want a big 25-year future? Focus only on mastering
the first 90 days. It's an easy 1% of 25 years.
A "25-Year Transformation" is a great way to talk about a future full of breakthroughs that you and your team members can hardly imagine from where you are right now.
To implement that transformation, though, create goals just for the next 90 days – goals that are a stretch, but still manageable. What should those goals be? What's most important to work on for the next quarter? The 25-Year Transformation will tell you! If you're going to reach it, there are certain things you need to be doing now.
But you don't have to do the whole thing right now – just one percent!
MAKE EVERY DAY BETTER THAN THE LAST
---
Learn 12 "laws" to keep you growing for the rest of your life. Today, start on your bigger future.
GET THE FREE GUIDE »