Tip Of The Week: 3 Ways To Create Value For Other People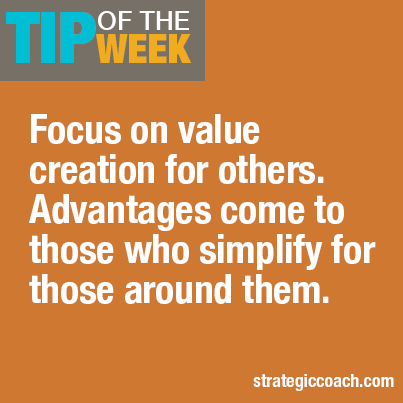 Tip Of The Week:
Focus on value creation for others. Advantages come to
those who simplify for those around them.
In a recent episode of "The Apprentice UK," the candidates were asked to design a piece of clothing, and one team had the bright idea of producing a T-shirt emblazoned with the words "Buy This T-shirt."
Now, any real businessperson will immediately see what's wrong with this picture: The slogan is focused entirely on the seller. And, as Dan Sullivan says, "People do things for their reasons, not for your reasons."
Entrepreneurs in the real world know that people are moved to buy things they believe will somehow make their lives simpler or better.
You create value for other people any time you provide them with leadership (giving them direction), relationship (giving them confidence), or creativity (giving them capabilities). Do these things for people, and you discover the place where their self-interest overlaps with yours. In other words, you win and they win!
ELIMINATE YOUR COMPETITION
---
Differentiate your business — how to develop and package your unique value and charge for your wisdom.
GET STARTED NOW »