Tip Of The Week: Entrepreneurs Are Like Jack Russell Terriers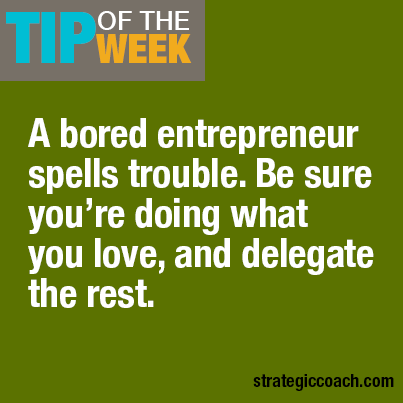 Tip Of The Week
A bored entrepreneur spells trouble.
Be sure you're doing what you love — and delegate the rest.
Picture a Jack Russell terrier trapped in a house all day on its own — mischievous, smart, and bored. Something precious is going to end up broken, or with its stuffing splayed across the room.
Entrepreneurs are the same — only much, much more powerful, with the funds, the imagination, and the influence to wreak a lot of havoc.
If what you have to work on isn't engaging enough, you're just going to ignore it, or tinker with it until it gets broken. Far better to have that task taken care of by someone — a "process manager" — who likes to make sure these details are carried out predictably, consistently, reliably, and successfully.
That's why it's good to always have a suitably compelling and challenging goal out in front of you: It focuses your time and attention, and draws out the best of your creativity, imagination, and leadership.
SPEND MORE TIME DOING WHAT YOU LOVE
---
Learn a proven strategy for delegating to your team members in a way that will get you the results you want!
DOWNLOAD NOW »