Tip Of The Week: Free Time Is A Precondition For Your Best Work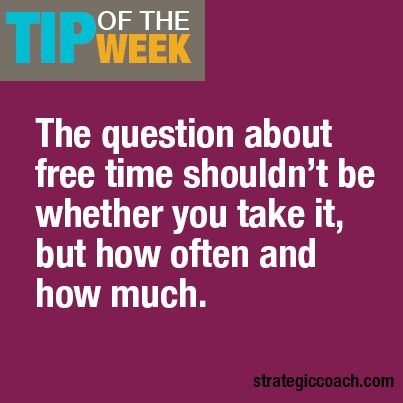 Tip Of The Week
The question about free time shouldn't be whether you take it,
but how often and how much.
Removing yourself physically and mentally from your business is not a reward for achievement, it's a precondition to you being useful and effective in your work. So if you're truly committed to delivering great results for yourself, your clientele, and your team, you need to take time off regularly.
We're all prone to thinking we're a special case, that our situation is different, but you'll know from your own experience that running yourself down completely just lengthens the amount of time it takes to get your energy back—and often increases frustrations and misunderstandings rather than eliminating them.
The brain also has a knack for figuring things out when you're not paying attention. Ever tried to remember someone's name under pressure and drawn a blank? Yet as soon as you stop trying, it's just there. It's the same thing with breakthroughs: As Einstein said, "The significant problems we face cannot be solved at the same level of thinking we were at when we created them."
So spending time away from your work can make you more creative, and, of course, it will also allow you to participate fully in all the other parts of your life that matter to you. The end result is that you become more successful – and more available to experience and enjoy that success.
WORK LESS, MAKE MORE MONEY!
---
Learn the time management system top entrepreneurs use to get their best results in every area of life.
GET STARTED NOW »