Tip Of The Week: On Nostalgia And The Pain Of The Past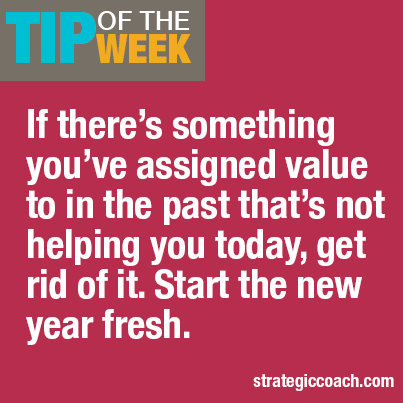 Tip Of The Week:
If there's something you've assigned value to in the past
that's not helping you today, get rid of it. Start the new year fresh.
Nostalgia isn't of much use to entrepreneurs. In fact, that second syllable of the word is telling, because it means pain (as in "neuralgia"). So if something from your past is giving you pain, choose to leave it there and not bring it into your future.
You probably never want to hear that bureaucratic excuse again: "But we've always done it that way!" And it's no different in your own life. Just because you used to do something, be involved with people, or found meaning in something in the past, that doesn't automatically mean it belongs in your future.
So as you look out at the pristine landscape of 2015, take a moment to think about what you don't want to bring in there. Then ditch it. You're allowed to do that!
Greater productivity = greater success.
---
Learn how the top coach to entrepreneurs achieves his most productive workday.
GET YOUR COPY NOW! »