Tip Of The Week: Say Yes, But Clean Up The Mess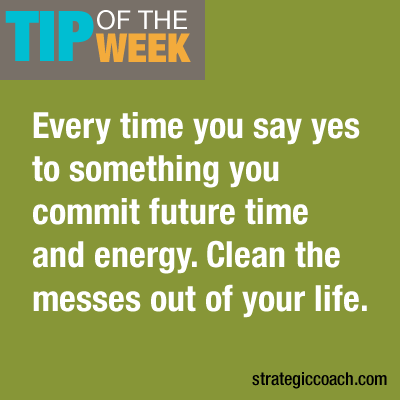 Tip Of The Week:
Every time you say yes to something, you commit
future time and energy. Clean the messes out of your life.
What's a "mess"?
Dan Sullivan defines it like this: M=O-C, or a Mess is Obligation minus Commitment.
If you say yes to something that you don't feel any real commitment toward, you've landed yourself in a mess. At some point, the "future you" is going to have to spent time and energy doing that thing – or avoiding it – and this is prime "mess" territory.
It's one of the more uncomfortable truths about success, but the further you go, the more you'll need to be judicious about what deserves your time and attention. In other words, you'll have to say no more. You and other people are much better served when you just do things that you're uniquely able, willing, and committed to doing.
WORK LESS, MAKE MORE MONEY!
---
Learn the time management system top entrepreneurs use to get their best results in every area of life.
GET STARTED NOW »