Tip Of The Week: The First Step To Getting What You Want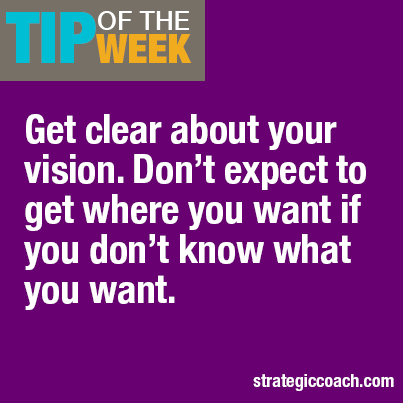 Tip Of The Week
Get clear about your vision. Don't expect to get where
you want if you don't know what you want.
Everything starts with vision. Vision makes it possible for the future to be different from the past.
So until you've articulated the future you want, all you can really do is stumble forward into an approximation from the past — or into somebody else's vision for you.
You're already full of dreams, desires, and ideas about how things could be better in the future. The things you want don't need to be justified or reasoned — but they do need to be stated so you can do something about them!
That's why we spend so much time in the Strategic Coach Program writing things down: The particulars can change — and often do — but having a destination in mind gives you a context for clear decisions, communication, and action.
GET EVERYTHING YOU WANT IN LIFE
---
Discover 10 goal-setting tips that successful business owners use to keep them on course to a bigger future.
GET THE FREE GUIDE »