Tip Of The Week: The Magic Solution To The Parts Of Your Business You Don't Like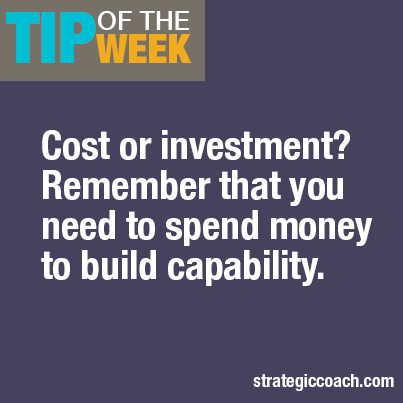 Tip Of The Week
Cost of investment? Remember that you meed to
spend money to build capability.
Entrepreneurs, by definition, are self-starters. They can create things without a lot of outside support, guidance, or structures.
No wonder hiring can be so difficult for many entrepreneurs: It means trusting other people, spending money on them, rather than reverting to the most natural instinct – simply doing it yourself.
But flip this thought around and consider team members as an investment rather than a cost: Wouldn't you pay money for a magic solution that alleviated all the parts of your business you don't like, that made you great at the things you struggle with now?
Great team members are even better than that because they can bring creativity and capability to aspects of your business that you've never had the time or inclination to address. When you hire someone to work in their Unique Ability® – an area of particular passion and talent for them – you tap into the very definition of "compounding interest."