Tip Of The Week: What's Important To Your Clients?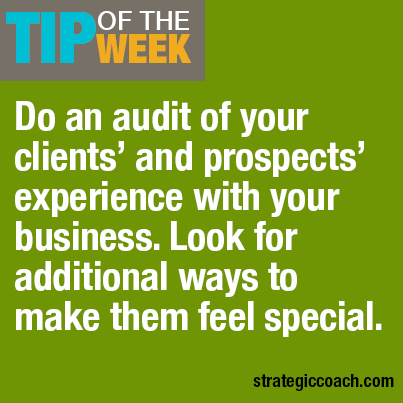 Tip Of The Week:
Do an audit of your clients' and prospects' experience
with your business. Look for additional ways to make them feel special.
People will gladly tell you what's working and what's not working about what you're doing—if you ask!
If you don't ask, important clients and customers can drift away, carrying with them the most valuable raw material for the development of your business.
We might think people don't want to open up about themselves in a business context—or we feel safer just talking about products and services. But our experience is that people want to talk about important things—like their hopes and fears about the future—more than anything else.
These are the most memorable, important conversations we can have, and they give you the biggest opportunity to address what matters most to each person.
Remembering little details and helping with the obstacles they've shared—these thoughtful touches will distinguish you from all your competitors and cost a lot less than marketing yourself to strangers.
ELIMINATE YOUR COMPETITION
---
Differentiate your business — how to develop and package your unique value and charge for your wisdom.
GET STARTED NOW »