Tip Of The Week: When A Team Member Is Not A Right Fit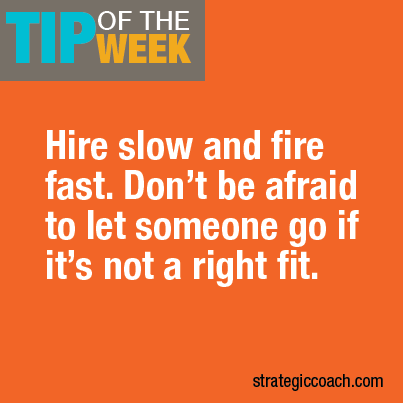 Tip Of The Week:
Hire slow and fire fast. Don't be afraid to let
someone go if it's not a right fit.
Some people interview well, then turn out to be a problem. Or maybe you just like them, but they're not actually right for the activities you need covered.
You're more likely to catch these things and be able to weed people out if you slow down during the hiring process and really get to know their nature. (Kolbe, StrengthsFinder, and DISC are a few systems we find really helpful for this.)
And if your heart and gut tell you someone has to go—listen. Avoiding a difficult conversation isn't just a burden for you: Your other team members probably know or feel that something's up, or have problems working with that person too. Even the person in question isn't benefiting from being in a role they're not suited to.
So just do it, let them go, and you'll experience a wonderful lift in your personal energy and in the atmosphere around your organization.