Who's At Coach: Ali Nasser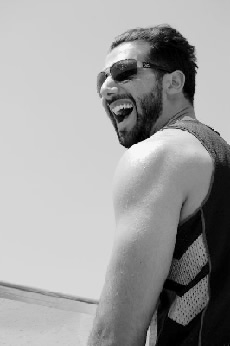 My name is: Ali Nasser.
I'm an entrepreneur with a specialty in: Simplifying the complexity and the struggle that business owners face when it comes to handling their personal financial affairs.
My company is: AltruVista.
What we do is: Help highly successful business owners crystallize their most important life goals and develop a financial strategy that supports that vision.
I was born in: London, England.
I currently reside in: Houston, Texas.
My first job was: Working at a travel agency, stamping their folders and helping them open Word documents. I was a 14-year-old kid who happened to know Microsoft Office and nothing else, but they all thought I was a genius.
The best inventions in the world are: Plumbing and electricity.
My greatest skill is: Communication and motivation, helping people understand what's most important to them, and what their best talents are.
I'm most inspired by: Entrepreneurs—people who create something out of nothing and strive to accomplish something better. And people who have a passion for what they do, regardless of what it is.
I'm most grateful for: Opportunity and the people around me, my team at the office, my family, my friends. Life is amazing, and those people make it that much better.
I never travel without: An open mind and my face wash.
My best Free Days* ever were: Taking a trip to Barcelona with my little brother last summer.
The best thing I ever did was: Leave big institutional financial services and develop an independent firm.
The wildest goal I've ever set for myself is/was: I haven't figured out exactly how, but in some way, I'm going to change the world.
My biggest advice for new entrepreneurs is: Find your purpose, then join Strategic Coach. They'll walk you through the next 500 steps.
In 10 years I will be: Celebrating growing 10x for the third time, and hopefully married and starting a family with the right person.
*Free Days

are part of the Strategic Coach concept, The Entrepreneurial Time System®. A Free Day

is a 24-hour period free from all work-related thinking and activities.