Who's At Coach: Amanda Hudye
My name is: Amanda Hudye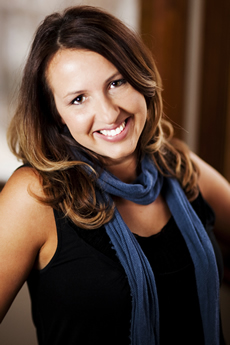 I'm an entrepreneur: With a specialty in baby, toddler, and child sleep skills.
My company is: SleepWell Baby.
I work with: Parents to develop a customized plan for their baby, toddler, or child to turn them into beautiful, independent sleepers. My goal is to dispel the myth that when you enter into parenthood, you face years of sleepless nights.
I'm also starting to work with more corporate clients. We all know how important sleep is to the health, well-being, and, of course, performance of employees. Corporations who have hired me are thrilled with the results!
I was born in: Norquay, Saskatchewan.
I currently live in: Saskatoon, Saskatchewan.
My first job was: At the Norquay Dari Dip. I twirled soft ice cream for all the locals. It was the most popular hangout in Norquay during the summers.
The best invention in the world is: As boring as it sounds, electricity. Another great invention, though, is co-working! I have an office at The Two Twenty in Saskatoon and have the privilege of working alongside very cool, creative entrepreneurs.
My greatest skill is: Making great connections with people, discovering what their needs are, and providing the right solution.
I'm most inspired by: My mom and dad. I grew up with my sister, Jana, and brother, Nathan, and our parents were our biggest fans, never missing a sporting or school event. They were always cheering us on and continue to do so today. The spirit of entrepreneurism was instilled in me from a very young age.
The best decision I ever made was: Starting SleepWell Baby! And joining Strategic Coach!
My biggest advice for new entrepreneurs is: Learn and grow every day. I surround myself with great people who take care of the tasks I find challenging. That way, I can focus on my Unique Ability*, which invigorates and energizes me.
In ten years, I will be: Happy and content; SleepWell Baby will be a global company; Ian, the kids, and I will spend our summers exploring various parts of the world; and I will continue with my quest to keep my body in good health.
*Unique Ability® is a Strategic Coach® concept that allows you to identify your unique talent and passion and apply it to your most productive and satisfying activities and relationships.