Who's At Coach: Betsy Ann Baron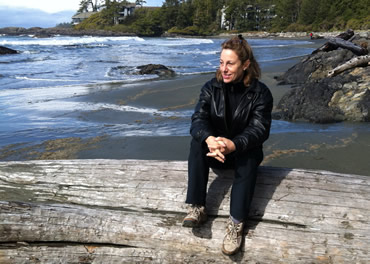 Name:
Betsy Ann Baron
Business:
Baron Bodyworks (therapeutic bodywork)
Birthplace:
Toledo, Ohio
Current Location:
Montreal, QC
First Job:
Church choir accompanist (piano)
The best invention in the world is:
Air travel—I am still always amazed at our globe-hopping possibilities!
My greatest skill is:
Believing in people's talents. We are all great at something! Why not live in our Best Place?
I'm most inspired by:
The creative genius of Beethoven, Brahms, and Stravinsky, to name only a few. It probably comes from my "in-the-womb" musical upbringing. My favourite composers energize me and help to peel away unnecessary restrictive layers.
?I never travel without:
A tennis ball to roll my feet. It is great to relieve soreness and also energizes. Try it! Putting as much or as little weight on the tennis ball under one foot, roll it toward the toes and back toward the heel for at least ten seconds. Longer is great!
I'm most grateful for:
Liberty and health.
The best Free Day* I ever spent was:
A day at the beach in a little village on the Adriatic coast of Italy! It was my birthday. My then husband, a few friends, and I had a beautiful loooong lunch at a beachside, feet-in-the-sand restaurant. Near the end of the meal, after the first espresso, I kicked off my sandals and went for a walk on the beach.
My biggest advice for new entrepreneurs is:
Write a daily Positive Focus**!
In 10 years, I will be:
At my lake or beach house, gearing up for the upcoming season of exciting travels and teaching adventures with my dynamic team!
*Free Days

are part of the Strategic Coach® tool, The Entrepreneurial Time System®. A Free Day

is a 24-hour period free from all work-related thinking and activities.
**The Positive Focus® is a Strategic Coach tool that helps you focus on your achievements in order to maintain your confidence and stay in the positive zone.