Who's At Coach: Dina Dwyer-Owens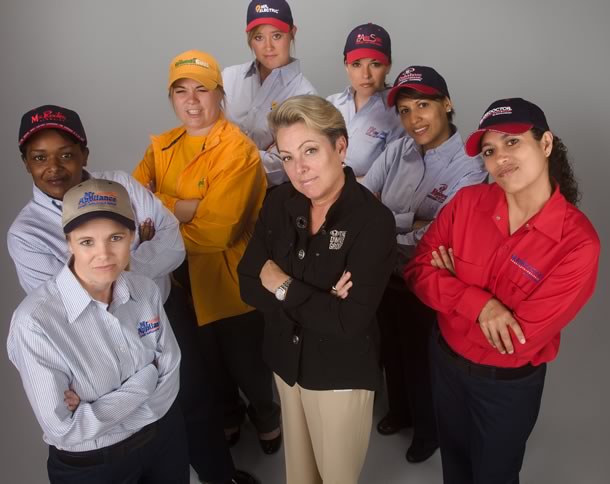 My name is: Dina Dwyer-Owens
I'm an entrepreneur with a specialty in: Franchising and values-based leadership, i.e. Living R.I.C.H. (Respect, Integrity, Customer focus, & Having fun in the process).
My company is: The Dwyer Group, Inc.
We are in the business of: Helping people have a better quality of life. We just happen to use franchising as our vehicle to accomplish this.
I was born in: Stamford, CT.
I currently reside in: The heart of Texas (Waco).
My first job was: Working at a car wash, pumping gas and selling waxes, etc.
The best invention in the world is: The airplane.
My greatest skill is: Networking/public relations (or so my assistant says).
I'm most inspired by: The leadership of Jesus Christ.
I never travel without: My iPhone and hopefully a family member or two.
I'm most grateful for: My family.
The best thing I ever did was: Marry my husband, Mike Owens, and produce our two wonderful children.
The wildest goal I've ever set for myself was: Running my first marathon at the age of forty-four.
The best Free Day* I ever spent was: With my family and friends in the Cayman Islands.
My biggest advice for new entrepreneurs is: To remember to keep your priorities in perspective—faith first, family, and then career.
In 10 years, I will be: Living my freedom plan where the majority of my time is spent on Unique Ability** activities, with family and friends (I hope to have numerous grandchildren by then), and making a positive difference in the lives of the less fortunate.
Dina shares some of the secrets to her amazing success in this video, the first of two, she recorded with us. Check it out!
*Free Days

are part of the Strategic Coach® tool, The Entrepreneurial Time System®. A Free Day

is a 24-hour period free from all work-related thinking and activities.
**Unique Ability® is a Strategic Coach concept that allows you to identify your unique talent and passion, and apply it to your most productive and satisfying activities and relationships.