Who's At Coach: Michael Williams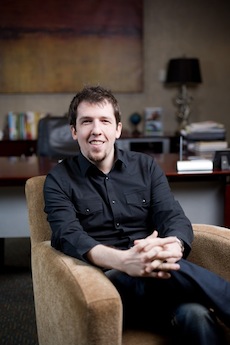 My name is: Michael Williams.
I'm an entrepreneur with a specialty in: accelerating entrepreneurial businesses and pioneering "unreasonable" ideas.
My company is: Mosaic. We are an unreasonable business accelerator.
What we do is: At Mosaic, we are entrepreneurs developing entrepreneurs. We partner with organizations to unleash the wisdom, strengths, and innovations that already exist within them in order to pull together fragmented pieces that may have seemed broken or worthless into a masterful mosaic.
I was born in: Atlanta, GA.
I currently reside in: Decatur, GA (although, I spend half my time in Boulder, CO).
My first job was: at the age of 13. I convinced my neighbor who owned a dry cleaning store to let me run the front counter, and he agreed! I still cannot believe how much responsibility he gave me at such a young age!
My greatest skill is: finding the possibilities in challenging situations, working to simplify solutions, and building the confidence needed to take action in order to achieve tangible results.
I'm most inspired by: people who find social problems and have the creative genius to innovate solutions so that the problem does not exist any longer.
I'm most grateful for: all of the people who have believed in me and have given me opportunities to work in my Unique Ability*.
The best Free Day** I ever spent was: I recently spent 60 straight Free Days traveling with my wife in Europe and Northern Africa. It was amazing, rejuvenating, and clarifying.
My biggest advice for new entrepreneurs is: be sure to collaborate. Get a good coach and surround yourself with growth-oriented entrepreneurs. For me, I get all of these things in Strategic Coach. I only wish I joined earlier in my entrepreneurial career.
In ten years, I will be: living in an exotic location, working to accelerate business ideas that solve some of the world's biggest problems.
*Unique Ability® is a Strategic Coach® concept that allows you to identify your unique talent and passion and apply it to your most productive and satisfying activities and relationships.
**Free Days

are part of the Strategic Coach concept, The Entrepreneurial Time System®. A Free Day

is a 24-hour period free from all work-related thinking and activities.