Do You Let Your Team Create New Stuff?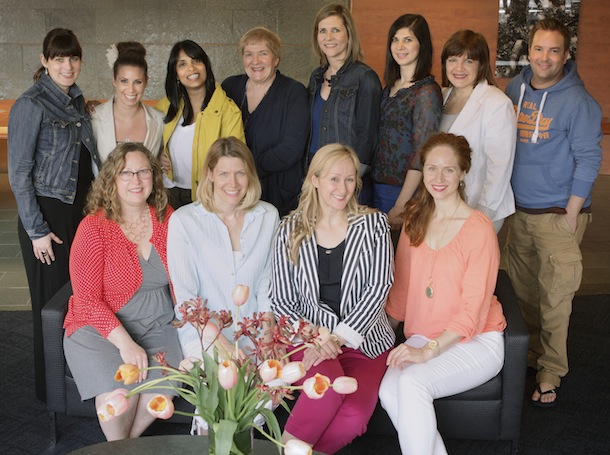 The creators and coaches of our workshops for entrepreneurial teams and young people.
Back row: Cathy Davis, Rebecca Powsney, Barb Da Costa, Marilyn Waller, Kristi Chambers, Tanya Voytovech, Shannon Waller, Paul Hamilton
Front row: Maureen Sullivan Garrelts, Julia Waller, Paulette Sopoci, Marilyn Prebul
Why are we all smiling in this picture? Because we genuinely love the work we do, and we feel like we own it!
In addition to the Strategic Coach Program for entrepreneurs, we also offer workshops for team members, young adults, and spouses. The fun thing for us as team members is that we're the ones who created and coach these programs.
For instance, my sister, Shannon Waller, is the originator of all the Team Programs we offer. Over the years, she kept hearing from our clients: "I don't know how to talk to my team. Help me communicate with them!" She saw something our clients needed, and with the blessing and support of Dan and Babs (owners and co-founders of Strategic Coach), she created a variety of programs to help our clients get their team members up to speed with Coach concepts and develop their Unique Ability Teamwork.
Likewise, Cathy Davis has a passion for Unique EDGE, our program for young people, and with her coaching and workshop design, she's taken the program to a fun, awesome new level. Yet another example is Barb Da Costa, who's developed a one-day session for our entrepreneurs based on her drive and talent for helping them define and articulate their company's process for creating unique value in their world. The fun goes on and on!
This is what Dan calls "the shift from employee to entrepreneur." He and Babs have created an environment where it's not just okay to come up with our own ideas, it's actually what they want us to do. If our ideas are based on Unique Ability and value creation, they trust them. With one important caveat, of course: The idea also has to align with the company's goal and vision.
This is a big change for anyone who's used to just having a job. The career path in an entrepreneurial organization isn't spelled out like it is in a corporation, where you start in one role, get a promotion, then move up to another role. Here, it's more organic, and there's a lot of room to develop according to our personal interests and talents. All growth and development is based on Unique Ability.
In my case, I was leading a team and looking for a way to keep my team members growing. We had all kinds of exercises and materials for developing Unique Ability, but they were spread out all over the place. So I pulled them together into a process and used it to do Unique Ability sessions "back stage." Word spread, and soon I was helping all our team members become more productive and fulfilled by figuring out their strengths.
We coach Unique Ability as a core concept in the workshops with our clients, but one particular entrepreneur wanted to go into much more depth with it. He said, "Listen, I'm really not clear about my Unique Ability, and if I'm going to move forward, I need to know what that is." So with Babs's help and encouragement, I developed a one-day session that has now evolved into a whole new offering for our entrepreneurs in the Coach Program.
I also teamed up with Shannon and Catherine Nomura to write a book, Unique Ability: Creating The Life You Want. It was our labor of love to spread the concept beyond our clients to their families and friends, and we're thrilled that it turned out to be our best-selling product ever!
Dan and Babs value us as individuals and never try to make any of us into someone different. With me, their approach has always been, "How can we help Julia become a better Julia?" I've had to learn to honor myself as much as they do.
Everyone on the team knows that we create value by addressing people's "dangers," opportunities, and strengths. If we can use our Unique Ability to do that, we get rewards, along with fun, new, meaningful things to do. In other words, we grow as people while we contribute to the company's growth.
Want your team and company to grow? Get to it! Figure out your Unique Ability and help each of your team members figure out theirs, then let them go exploring to discover and address the needs out there. Trust me, they'll invent stuff you'd never even dream of.
Not sure how to figure out your Unique Ability?
Why not grab a copy of our book (available in print and as an ebook)? If you and your team members complete the activities in chapter two of the book you'll each end up with a Unique Ability Statement.
We'd love to hear what you come up with, so feel free to share your Statement with us in the comments below. And let us know any challenges you have, and we'll address them in future posts!