Dan Coaches In The UK With Proceeds Going To Charity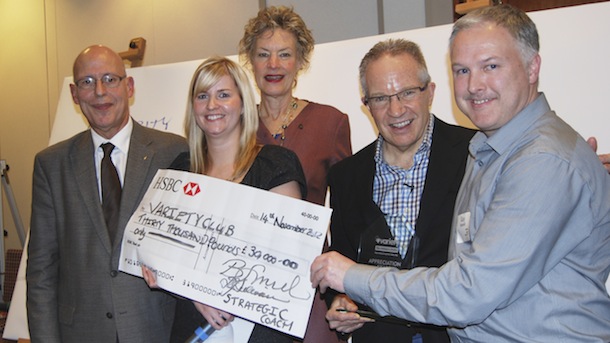 Cheque presentation on Wed. Nov. 14, 2012, London, U.K. From L to R: Stuart Rogers (Executive Director, Variety, the Children's Charity), Andrea Dempsey (event co-ordinator), Babs Smith (co-founder and CEO, Strategic Coach), Dan Sullivan (co-founder and president, Strategic Coach), and Guy Remond (Chairman, North West Region, Variety, the Children's Charity).
For the very first time, Dan Sullivan coached a workshop in the UK. And this was no ordinary workshop: He put together a special one-day "Market Multiplier" session for Strategic Coach Program participants in the UK, and donated all the profits to Variety, the Children's Charity.
The event took place on November 14, 2012, and was a great success. Forty entrepreneurs took part, and at the end of the day, Dan and Babs gave a cheque for £30,000 to Variety.
The event was suggested and organized by Andrea Dempsey, Head of Operations for Strategic Coach's UK office. She's a great supporter of Variety, which helps to brighten the lives of sick, disabled, and disadvantaged children.
Dan was enthusiastic about Andrea's idea, but insisted that the event had to create great value for the people participating in it too. So he took some of his most advanced concepts and created a custom workshop for the occasion—which was very well received.
"It was a brilliant, inspirational day with Dan and an absolutely wonderful cause," said UK entrepreneur Katy Baxter. "I'm so happy to have been a part of this day,"