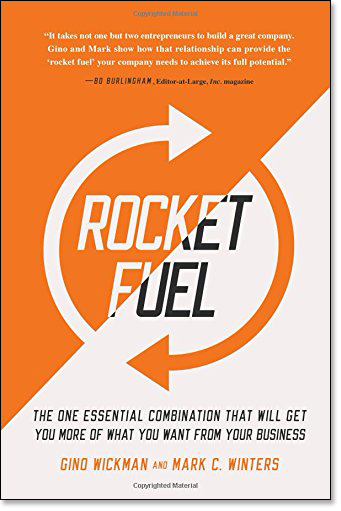 Rocket Fuel: The One Essential Combination That Will Get You More of What You Want from Your Business by Gino Wickman and Mark C. Winters
Rocket Fuel is a must-read for growth-oriented entrepreneurs. Despite being an avid reader, I have yet to come across a book that addresses the missing link in entrepreneurial leadership like Gino Wickman and Mark C. Winters have here. A huge source of frustration for visionary entrepreneurs comes from not having an "Integrator"—a person who complements them, is good at engaging others, manages schedules, creates momentum, and sees projects through to completion.
This complementary partnership alone is the capability companies need to break through plateaus, revitalize opportunities for revenue and profit, get stuck-in-the-mud projects off the ground, and capitalize on the innate strengths of the entrepreneur.
Rocket Fuel outlines the personality and behavioral characteristics of both Visionaries and Integrators, and provides assessments so you can determine which category you fall into. It includes organizational charts, the "5 Rules For Success," plus exercises and tools to help you maximize this partnership. Wickman and Winters also highlight challenges and pitfalls, and share how to maintain the productive tension needed to move your company forward.
Most entrepreneurs will see themselves in the pages of this book. Read it now to find your own "rocket fuel."
Other reviews (from Amazon):
"Rocket Fuel is a powerful model for freeing up entrepreneurial visionaries to do what they do best. Gino and Mark provide a practical gameplan for building an organization that perfectly combines vision and integration."
—Dan Sullivan, President and Founder of Strategic Coach®
"In this brilliant book, Gino Wickman and Mark C. Winters explain the vital importance of having both a visionary and an integrator—and show how that relationship can provide the 'rocket fuel' your company needs to achieve its full potential."
—Bo Burlingham, Editor-at-Large of Inc. magazine and author of Small Giants and Finish Big: How Great Entrepreneurs Exit Their Companies on Top
CLARIFY YOUR ROLE IN YOUR BUSINESS
---
Learn the important distinction between leadership and management that most entrepreneurial companies are missing.
FREE GUIDE »