Tip Of The Week: Overwhelmed By Messes? Try This Simple Solution.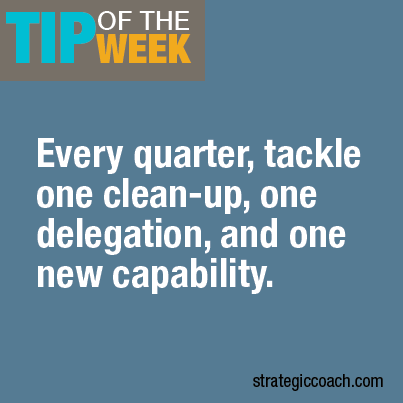 Tip Of The Week:
Every quarter, tackle one clean-up, one delegation,
and one new capability.
As you look ahead at the next 90 days, is there a task or conversation you've been avoiding that you could finally get off your mind? Is there something you'd like not having to do anymore? On the other hand, is there something you'd like to get better at?
Our brains tend to go into overwhelm-paralysis when we try to change everything at once, but just one clean-up, delegation, and capability each quarter can add up to a huge difference.
And if your goal is to get better at delegating, you might be able to do all three of these at once!
SPEND MORE TIME DOING WHAT YOU LOVE
---
Learn a proven strategy for delegating to your team members in a way that will get you the results you want!
DOWNLOAD NOW »