Tip Of The Week: An Easy Way To Give Your Team What It Really Wants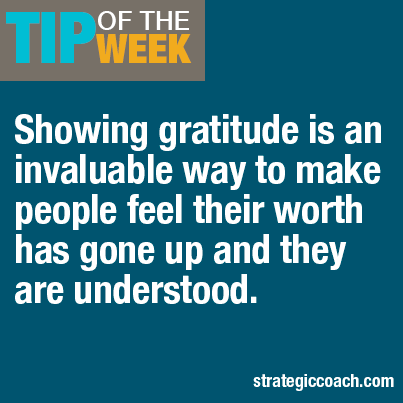 Tip Of The Week:
Showing gratitude is an invaluable way to make people
feel their worth has gone up and they are understood.
We know that people respond to recognition at work as much as, or even more than, to financial rewards. Although we go to work because we get paid, work is also the place where we can get some of the biggest reinforcement and appreciation for who we are.
That's why Unique Ability® is such a cornerstone of the work we do: If someone's bothered to develop their talents in a particular area, that's obviously very important to them — inseparable, really, from who they are.
When you express gratitude to someone for their contributions — especially when they're in an area of Unique Ability — that person will feel like their efforts are worthwhile. Even more important, they'll feel known — which may just be what we really want most as human beings.
CLARIFY YOUR ROLE IN YOUR BUSINESS
---
Learn the important distinction between leadership and management that most entrepreneurial companies are missing.
FREE GUIDE »