Tip Of The Week: Supercharge Your Meetings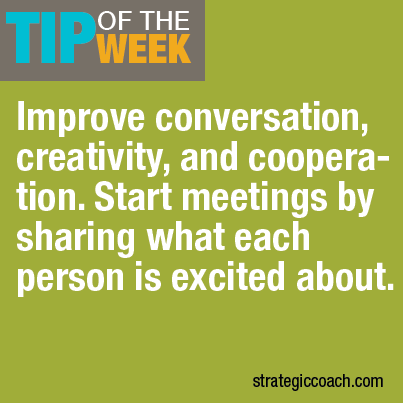 Tip Of The Week:
Improve conversation, creativity, and cooperation: Start every meeting
by sharing what each person's excited about.
At Strategic Coach, we start every meeting by going around the room and having everyone share something they're excited about, whether it's in business or in some other part of their life. You'll be amazed how it lifts the collective energy and gets everyone "in the room"—and sets the stage for a positive, idea-filled, collaborative conversation.
Here's a clip in which Dan explains in detail how to do this quick exercise with your team—and what the many benefits are.
CLARIFY YOUR ROLE IN YOUR BUSINESS
---
Learn the important distinction between leadership and management that most entrepreneurial companies are missing.
FREE GUIDE »