Tip Of The Week: The Job Of An Entrepreneur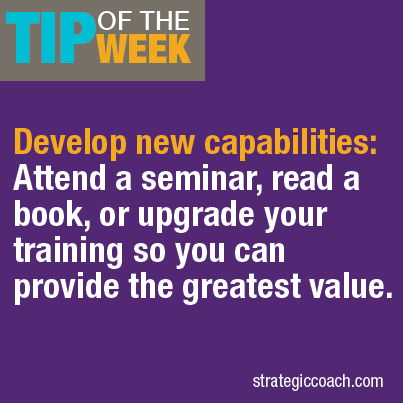 Tip Of The Week
Develop new capabilities:
Attend a seminar, read a book, or upgrade your training
so you can provide the greatest value.
As an entrepreneur, you're never "finished."
While it's important to measure your progress backwards from where you started (not against unachievable ideals), it's vital to always be stretching and growing—creating an exciting future vision of how much more capable you will become.
The best "experts" don't stand still, but constantly challenge and expand their thinking—taking themselves out of the realm of comparison and competition, into a mindset where they can create things that are entirely new and different.
GET EVERYTHING YOU WANT IN LIFE
---
Discover 10 goal-setting tips that successful business owners use to keep them on course to a bigger future.
GET THE FREE GUIDE »