Tip Of The Week: The People Worth Spending Time With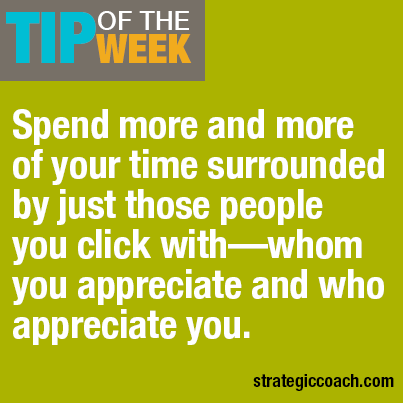 Tip Of The Week
Spend more and more of your time surrounded by just those people you click with
— whom you appreciate and who appreciate you.
As much as we might enjoy our accomplishments, a huge part of our quality of life comes from our relationships. And one of the great side-effects of success is having the freedom to choose who you interact with day-to-day –clients and customers, suppliers, and team members.
There's a special quality to people who are part of your "tribe." You can achieve more together and have fun doing it.
So, as you look toward the future you want to experience, try to articulate what qualities you find compelling and rewarding to be around – and which ones you'd be better off without – and start consciously building the best kinds of relationships into your life, both business and personal.
A great way to start this process is by simply noticing. Then acknowledging. This alone can go a long way to establishing this circle of great relationships. As Dan says, "What you appreciate appreciates."
CLARIFY YOUR ROLE IN YOUR BUSINESS
---
Learn the important distinction between leadership and management that most entrepreneurial companies are missing.
FREE GUIDE »