Tip Of The Week: Where To Find People Who Respect, Support, And Challenge You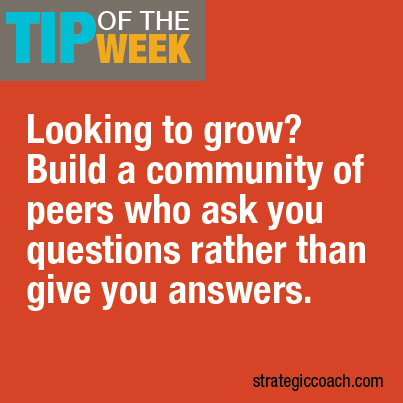 Tip Of The Week
Looking to grow? Build a community of peers
who ask you questions rather than give you answers.
Some people are initially intimidated by the idea of being in a Strategic Coach workshop, imagining that the other entrepreneurs will judge them or try to steal their ideas. They quickly come to realize that everybody is there for their own personal and professional reasons, yet they're also passionately committed to one anothers' success.
Your progress accelerates when you're accountable to people whose opinions you value, who understand what it means to be at your level, making decisions and taking action.
Find a community that respects and supports you, but will also challenge you to articulate your goals and go after them.
FREE EBOOK!
---
Learn 8 key strategies for exponential growth and true freedom as an entrepreneur from top entrepreneur coach Dan Sullivan.
DOWNLOAD "THE SELF-MANAGING COMPANY" »