Who's At Coach: Bob Woolsey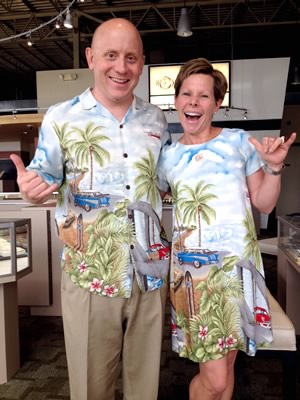 My name is: Bob Woolsey
I'm an entrepreneur with a specialty in: moving men to propose marriage "the best right way."
My company is: Jones Bros. Jewelers.
What we do is: solve people's retail jewelry-related problems (engagement rings, anniversary gifts, repair jewelry, etc.).
I was born in: Peoria, IL.
I currently reside in: Peoria, IL.
My first job was: bussing tables at a local restaurant.
The best invention in the world is: the book I wrote, Propose Like A Man.
My greatest skill is: finding out what is going on with an individual or organization and helping them move it to a solution with a happy ending.
I'm most inspired by: my mom, Betty Schlacter, also in Strategic Coach.
I'm most grateful for: my wife, Mia, and our three children, Bennett, Charlie, and Edie.
The best thing I ever did was: Or the best decision I ever made was: signing up for Strategic Coach in my twenties. It has made my thirties much more organized, efficient, and enjoyable.
Wildest goal I've ever set for myself is/was: to positively impact 1,000,000 people getting engaged with my book and process, Propose Like A Man.
My biggest advice for new entrepreneurs is: be sure that you are passionate about whatever business venture you embark on in your life. The passion will carry you through the challenges.
In 10 years I will be: celebrating the successes of my children. My three children have so much to offer the "real world." I am excited to see where their value creation goes as they grow older. As for my wife and me, we will continue to assist men and women throughout the world to celebrate their love through amazing proposals.