Who's At Coach: Jill Wilcox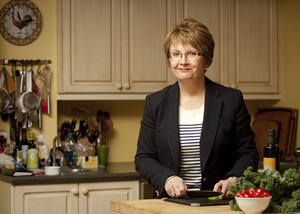 My name is: Jill Wilcox
My company is: Jill's Table, offering kitchenwares, tablewares, specialty foods, cooking classes, gift baskets, and culinary tours. Freelance food writer for Sun Media (Free Press for 32 years).
I was born in: London, Ontario.
I currently live in: London, Ontario.
My first job was: a popcorn maker at Delaware Speedway for Parnell Foods.
My greatest skill is: being able to share a keen knowledge and passion for all matters related to food and cooking with my family, friends, customers, and readers.
I'm most inspired by: nature. I'm in awe of the seasons and how that drives what we cook and eat.
I'm most grateful for: my family and the great people I get to interact with every day, including my team and customers. I'm grateful to live in Canada, truly one of the most blessed nations on Earth.
The best decision I ever made was: to start Jill's Table, despite having no previous experience with the retail sector.
My biggest advice for new entrepreneurs is: to surround yourself with great mentors, and get a good accountant and marketing team. Don't give up when the going gets rough!
In 10 years I will be: enjoying many more Free Days*, traveling more with my family and friends to all the fabulous food destinations the world has to offer. I'll still be cooking up a storm and sharing meals and friendship around my table. I'll be keeping a bird's eye view on my business that will have new partnerships and spinoffs.
*Free Days

are part of the Strategic Coach® concept, The Entrepreneurial Time System®. A Free Day

is a 24-hour period free from all work-related thinking and activities.